Silage baggers are very popular these days. They use the latest methods for fodder storing in silage bags in order to significantly reduce dry matter and fodders energetic value losses.
It is proven worldwide that the best fodder of the best quality comes just from silage bags. Fodder storing in silage bags is advantageous above all from the logistics point of view. On a relatively small space you can create a number of fodder types.
Choose your silage bagger
We offer you 2 types of silage baggers, which differ in size and engine power.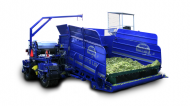 Haylage press EB 310 LG is currently the most demanded machine from all offered models. It is popular namely thanks to several basic characteristics, such as its transport speed and stability during transport, high power and even filling of the bag, speed and comfort during the machine preparation for bagging and last but not least, massive structure and technical design.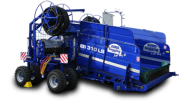 The silage bagger EB 310 LS is a universal machine for storing all different feed into plastic bags. It is designed for small and medium-sized farms or private farmers.