News in EURO BAGGING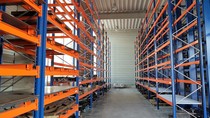 We decided for long term investment in the end of they year to make our storage solution much more efficient in following of machines production. We have also increased storage capacity of silage bags.

With new 4-way forklift we are able to comfortably storage steel profiles and another goods to new racking system reaching height 6,3 meters. In the storage hall for silage bags we bought new "Drive-In" racking system to be able to put 2 pallets of bags on top of each other. Thanks to this system we are able to react for customer´s order much quickly. The last investment has been band saw and new software for constructing of machines.