New silage bagger EB 310 LX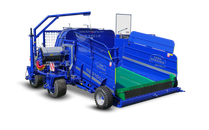 Our new, tractor-driven silage bagger EB 310 LX was created by combining EB 310 LS a EB 310 LG machines. It is designed for grass haylage, grain silage, corn silage, sugarbeet pulps, brewer´s grain and crimped grain and it offers the best of these two machines.
Parameters of silage bagger EB 310 LX:
unique braking system using inner rope
high performance
optimum speed 40 km/h
even filling of the whole silage bag
hydraulic system adapted to LOAD SENSING to save tractor fuel
freely combination of all 3 tunnel sizes (2.4 + 2.7 + 3.0 m)
Check also the video, product sheet and other information about the silage bagger EB 310 LX.