Silage bagger EB 308 LS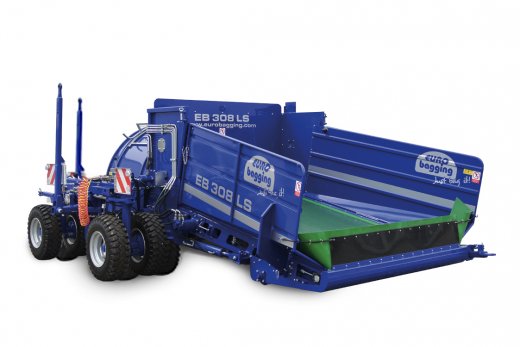 Our smallest silage bagger EB 308 LS is designed for farmers who don´t want to be dependent on contractors. With investment to EB 308 LS you may solve grass harvest, maize storage and another wet-product storage like sugarbeet pulps, brewery grain and additionally CCM. EB 308 LS is designed as well for composting of greenwaste in the bags.
Parameters of silage bagger EB 308 LS
Silage bagger EB 308 LS is transported by tractor on all wheels and is designed for 20 km/h road speed. EB 308 LS has air-brakes or hydraulic brakes for transport on public roads. Drive-line of 2.35 m wide rotor is from tractor PTO shaft with 120-180 HP. Front and rear wheels are hydraulically turnable.

EB 308 LS - Technical data sheet
Innovative braking solution of silage bagger
It is very impressive braking solution with internal cable and wheels braking on EB 308 LS. You choice 3 different widths of the internal cable depending on bagging material – grass bagging on slim loop and the rest on wide loop. This system is very efficient and makes the bagging comfortable.
Photos
Video
>
Contact us
Lukáš Jurek
sale, technical queries
+420 602 736 097