Crimper bagger EC 22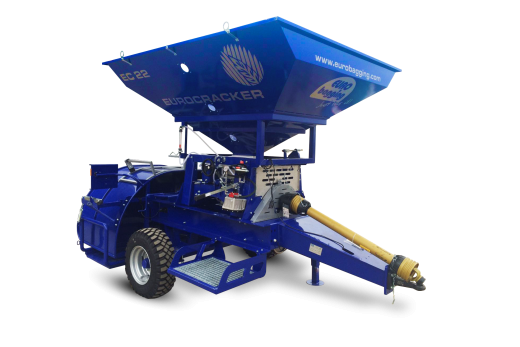 Nice machine EC 22 is our smallest mobile crimper of wet grain with bagging. Machine is suitable for small farmers and farms who want´s to be independent on contractors.
Machine has simple crimping unit with discs and focus on crimping of wet corn grain and wet cereals grain with capacity up to 8-15 tons per hour. Small 100HP tractors are strong enough to drive the machine – not necessary connect with strong tractor to save a cost. Machine is very simple and crimping results are great comparing with big crimpers.
You can choice to storage in 1,5m or 2,0m bags.
High-quality V discs made of refined steel.
Belt drive with low noise and low maintenance frequency.
Easy operation, strong drive-line.
Low investment, cost efficient.
Basic features:
Hopper with a volume of 2.5 cubic meters
Belt drive – silent operation
Centralized lubrication points outside the machine
Hydraulic sliding doors under the hopper
Hand brakes for bag pressure adjustment
Dust exhaust directed to hopper
Inspection probe for sampling the grain
1,5m tunnel
Acid pump 7 l/min, holder for barrel
Technical details:
Tunnel performance - 1.5 / 2.0 m
Tractor power - 80 - 140 Hp
Crimping capacity * 10 - 18 T/h
*Depending on the corn type, moisture, weather
Machine dimensions
Length 4350 mm
Width 2580 mm
Height 2750 mm
Machine weight 2100 kg

EC 22 brochure
Contact us
Lukáš Jurek
sale, technical queries
+420 602 736 097